THE 17 TH INTERNATIONAL ANIMATION FESTIVAL HIROSHIMA'18 in広島
THE 17 TH INTERNATIONAL ANIMATION FESTIVAL HIROSHIMA'18
2018/8/23(木) 09:00~2018/8/27(月) 21:00



Hiroshima International Animation Festival is a biennial manifestation held in Hiroshima City in August, endorsed by Association Internationale du Film d'Animation (ASIFA). Under the spirit of LOVE & PEACE, the festival has been dedicating to the advancement of visual media art culture in general, by promoting international cross-cultural exchanges through the development of animation art. Today, Hiroshima Festival is considered as one of the most respected animation festivals in the world. It is also qualified as an Academy Award Short Film Festival.


DATE:August23rd(Thu.)-27th(mon.),2018  9:00~ 21:00
※Augsut23th(Thu.) OPEN 9:00~/START 9:15~
AVENU:JMS Aster Plaza
     4-17 Kakomachi, Naka-ku, Hiroshima-shi, Hiroshima-ken 730-0812, Japan
⇒
Access
⇒
JMS Aster plaza OFFICIAL PAGE
(Japanese only)
<Main Programs>
・Competition (open to audience)
- Best of the World
- Stars of Students
- Animation for Peace
- Animation from the World
- Animation for Children
- Animation made by Children of the World……and many more!
⇒
Programs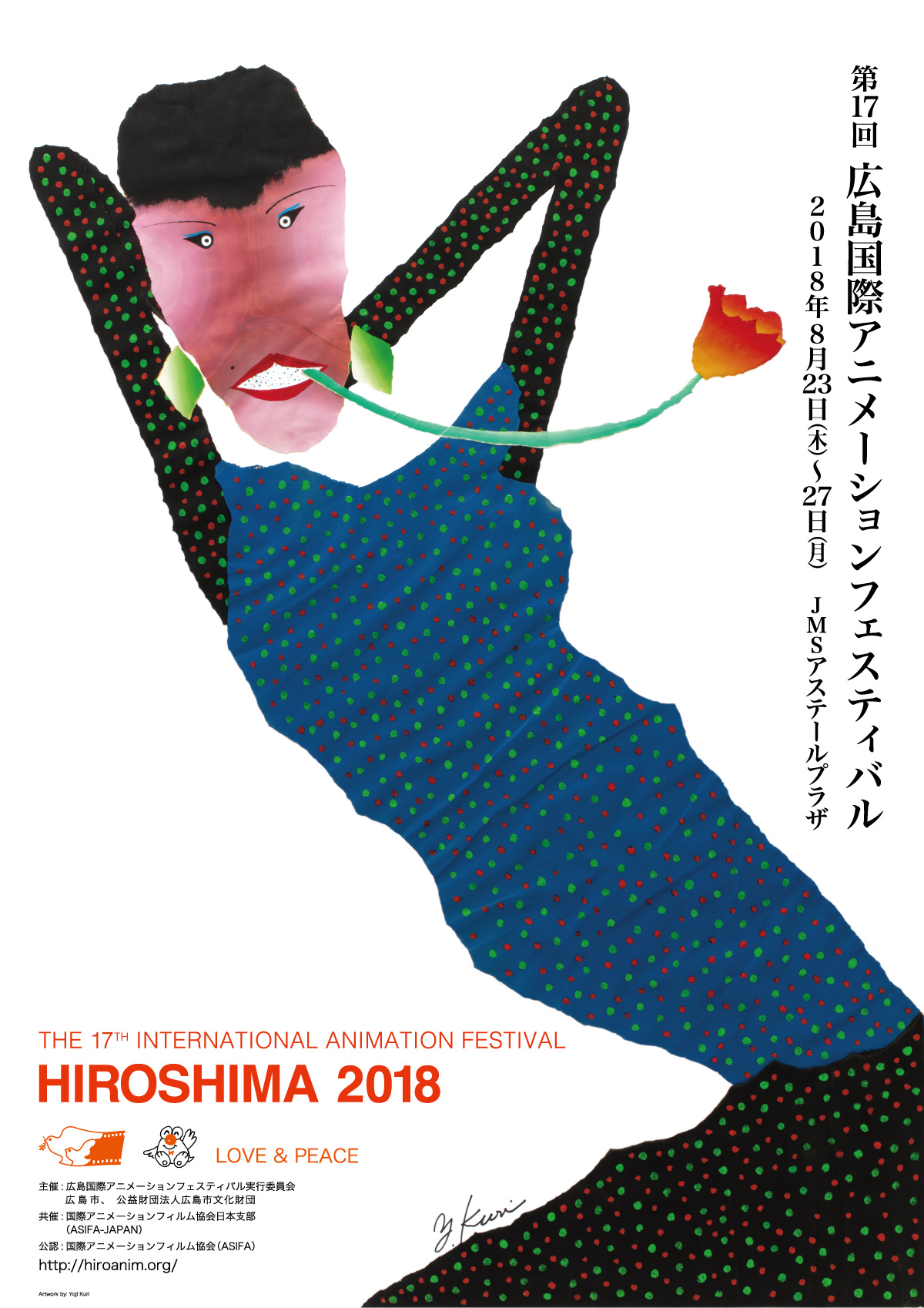 **Official poster**
【For 1 Program Ticket】
| | |
| --- | --- |
| 1-A Adult | 1,000円 |
| 1-B Student (over 18) | 800円 |
| 1-C Student (under 18) | 600円 |
--------------------------------------------------------
【1 Day Pass】
| | |
| --- | --- |
| 2-A Adult | 2,500円 |
| 2-B Student (over 18) | 2,000円 |
| 2-C Student (under 18) | 1,500円 |
--------------------------------------------------------
【All Programs Pass】
| | |
| --- | --- |
| 3-A Adult | 10,000円 |
| 3-B Student (over 18) | 8,000円 |
| 3-C Student (under 18) | 6,000円 |
--------------------------------------------------------
Ticket price is tax-inclusive price .
It is required per person one way ticket .
It can not be refunded after purchase .
Elementary school or less are admitted free, but preschool children must accompany parents. However, as for the competition, children under 3 years old can see from the "parent-child room" (with capacity) behind the Grand Hall.
| | |
| --- | --- |
| | About Hiroshima International Animation Festival |
Hiroshima International Animation Festival was established in 1985, as a project commemorating the 40th anniversary of the atomic bombing. From the beginning, Hiroshima City and ASIFA shared a same idea, that is, to promote the international mutual understanding and to pursue eternal world peace through the development of animation art, which is a medium common to all human beings beyond nations and languages. The creation of this festival was largely due to the earnest efforts of the two animation filmmakers --- Renzo Kinoshita, who at that time was serving as a Board Member of ASIFA and the President of ASIFA-Japan, and Sayoko Kinoshita, who was serving as the General Secretary of ASIFA-Japan. Sayoko has been the festival director since the first edition, dedicating herself to lay foundation of this festival until today, and is now also the Vice-President of ASIFA and President of ASIFA-Japan.
Hiroshima Festival is a comprehensive animation festival, featuring competition programs to choose the Grand Prize, Hiroshima Prize and other prizes out of many latest animation shorts submitted from around the world. The festival also offers many special programs including retrospectives of masters and talented filmmakers, feature animations, high quality student works, animations for peace, for children, as well as seminars, symposiums, workshops, exhibitions, and educational film market. Furthermore, the festival provides free spaces, such as "Frame In" for animation students and "Nexus Point" for animation professionals, to screen their works, make presentations and exchange ideas. With its outstanding international programs and administration, the festival is highly recognized not only within animation field but also throughout the media art society.
On the occasion of the sixteenth edition HIROSHIMA 2016, the competition attracted 2,248 entries from 78 countries and regions, and 33,129 people participated during the five days of the festival.
Hiroshima Festival continues to contribute ceaselessly as a festival respecting animation filmmakers in the first place, and also to serve as a gateway to success for world-class professionals.

⇒
OFFICIAL PAGE
Contact
International Animation Festival - HIROSHIMA 2018
4-17 Kako-machi, Naka-ku, Hiroshima 730-0812 JAPAN
phone: +81-82-245-0245
fax: +81-82-504-5658
チケット販売期間外です
販売
期間

2018/5/1(火) 00:00~

2018/8/22(水) 23:59
1-A【For 1 Program Ticket】Adult
スマホ専用チケット
1-B【For 1 Program Ticket】Student (over 18)
スマホ専用チケット
1-C【For 1 Program Ticket】Student (under 18)
スマホ専用チケット
2-A【1 Day Pass】Adult
スマホ専用チケット
2-B【1 Day Pass】Student (over 18)
スマホ専用チケット
2-C【1 Day Pass】Student (under 18)
スマホ専用チケット
3-A【All Programs Pass】Adult
スマホ専用チケット
3-B【All Programs Pass】Student (over 18)
スマホ専用チケット
3-C【All Programs Pass】Student (under 18)
スマホ専用チケット
お支払い方法
・PayPay残高

・クレジットカード決済
チケットの取出し方法
チケットは
こちら
または
お申し込み時に登録したメールアドレス
よりご確認いただけます。